Goombles: A Sweet Adventure into Gaming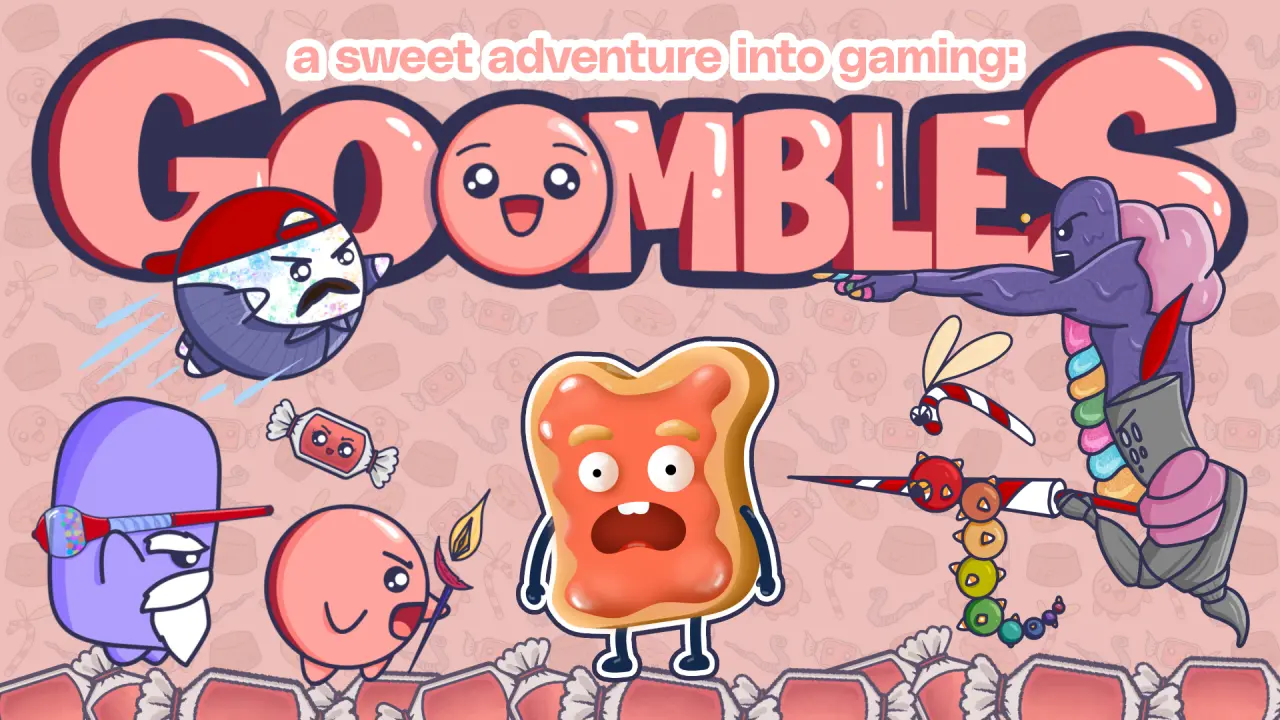 Collections 23.05.2023
Goombles: A Sweet Adventure into Gaming
Gaming has evolved into a multi-billion-dollar industry, constantly pushing the boundaries of innovation. Goombles, NFT project build on Cardano blockchain, aims to provide gamers with an immersive and fun gaming experience. Read our previous article about NFTs and gaming!

Sweet Vision
Goombles envisions a future where blockchain technology elevates the gaming market to unprecedented heights. It recognizes the hard work and dedication of gamers, and the disappointment that comes when their progress is erased with the power button. Blockchain technology offers a solution by enabling players to earn, hold, and enjoy in-game assets in a transparent and fair manner.
Goombles' approach
When it comes to blockchain games, some tend to prioritize innovation right from the start, often losing sight of what really matters. But not Goombles. They have their priorities straight. Their main goal? Creating a gaming experience that is genuinely fun and engaging, giving gamers exactly what they want. And then, they take it up a notch by incorporating blockchain as the "icing on the cake." They want to make it clear that they are serious about this approach. They won't launch a token just for the sake of having one. Instead, they'll wait for clear regulations and a genuine purpose before considering it. For Goombles, the focus is on delivering a fun and engaging game first. They want to keep the barrier to entry as low as possible, so everyone can enjoy the Goombles experience.
But that's not all. Goombles understands the power of community in making a game thrive. They know that without the community, there wouldn't even be a game to begin with. That's why they put a huge emphasis on community involvement. They actively engage with top players, community members, and content creators, recognizing the invaluable contribution they make. By leveraging blockchain technology, Goombles can easily reward these individuals for their efforts. They understand that collaboration and community engagement are vital for the success of the game. After all, it's the players and their passion that truly bring the game to life.
Links to Goombles universe:
A Tower Defense Adventure in Sweetopia
Your mission in Goombles? Defend your base against the mischievous Sours, the sworn enemies of Sweetopia. Utilize Mechs, controllable in-game units, and strategically placed Towers to slow their advances. But beware, the Sours are not your ordinary mindless zombies. They possess a variety of tricks up their sleeves. They can soar through the air, deflect attacks, multiply their forces, and even speed up their relentless assault. You'll need to stay sharp and adapt your strategies to overcome these clever adversaries. As you progress in the game, you'll have the opportunity to enhance your Mechs and Towers, unlocking a wide array of special skills and abilities. This skill tree allows you to tailor your defenses to suit your playstyle and unleash devastating tactics.
Goombles has divided their game into three development cycles. The initial stage takes you on a single-player adventure. The second stage brings the excitement of player-versus-player battles, where you can test your skills in 1v1 matches against other players. Finally, the third stage focuses on competitive group play, fostering cooperation and teamwork as you strive for victory together.
With its addictive gameplay and mobile-friendly nature, Goombles captures the essence of those captivating games you can enjoy anytime, anywhere. Their main focus is to create an enjoyable experience that will entertain a wide audience of players. Prepare yourself for an unforgettable tower defense journey through Sweetopia with Goombles, where delicious surprises and strategic challenges await at every turn.
Goombles is making progress in their development, and they are already sharing sneak peeks of the game.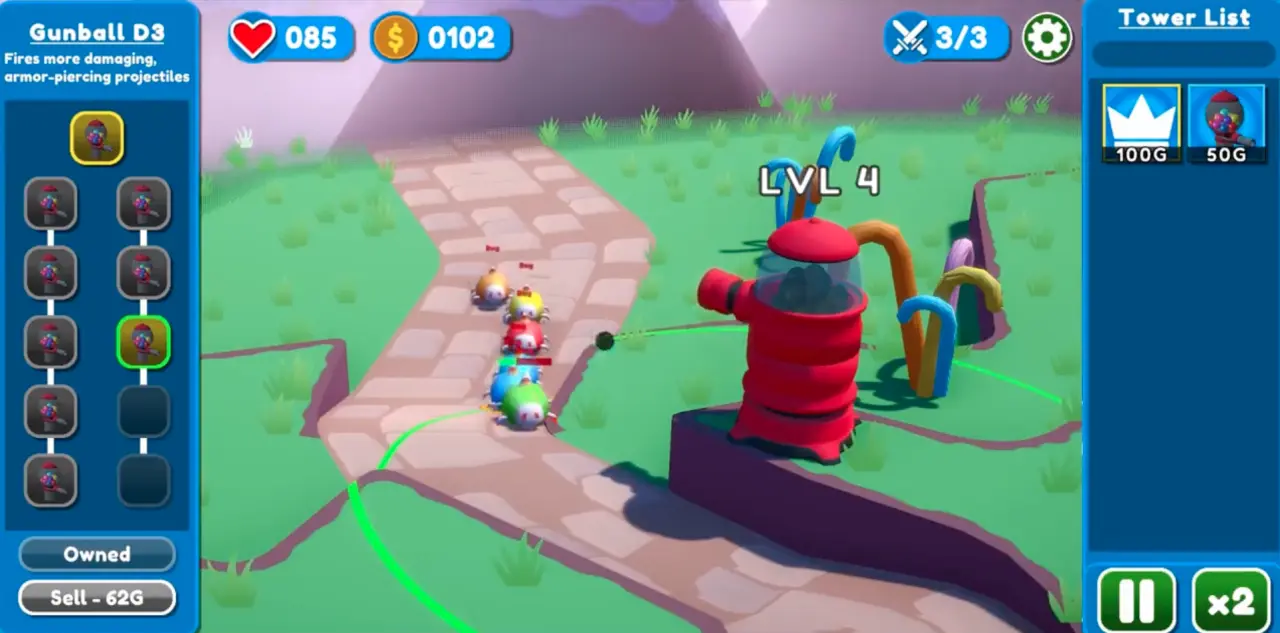 Goombles Universe: NFTs, In-Game Items, and Beyond
Goombles is not just about the game itself; it's a brand that aims to create a complete and immersive experience for its players. They have already unveiled two exciting NFT collections, with the first one already available for minting. The Goombles collection is the key to unlocking the vast Goombles universe. These NFTs serve a dual purpose, not only as collectibles but also as passes to gain access to game testing. By owning a Goombles NFT, players will have the opportunity to be among the first to explore and experience the game before its official release. In addition to the Goombles collection, there is also the upcoming Mechs collection. These NFTs represent playable game avatars that players can utilize to defend their base in the Goombles game. Each Mech will bring unique abilities and attributes to enhance your strategic gameplay.

But Goombles doesn't stop at virtual items. They have even more exciting plans in store. They are preparing to release both on-chain and off-chain Towers and bundles, although specific details are still under wraps. These additions will further enrich the game experience and provide players with even more customization options. Goombles brand expands beyond NFTs and in-game items. They have big ambitions to venture into various other realms. Physical merchandise, such as clothing and accessories, will allow players to proudly display their love for Goombles in the real world. Books and animated series are also in the works, offering fans opportunities to dive deeper into the Goombles universe. Additionally, Goombles has already introduced several mini-games on their website, giving players a taste of the fun and excitement that awaits them.
Conclusion
In conclusion, Goombles combines the excitement of gaming with the potential of blockchain technology. With a focus on fun and engaging gameplay, they incorporate blockchain as an additional enhancement. By valuing community involvement, Goombles rewards the contributions of players, content creators, and top gamers. In the tower defense adventure of Sweetopia, players defend their base against clever and versatile enemies. They can customize their Mechs and Towers to unleash unique abilities and strategies. Goombles goes beyond the game by offering NFT collections, physical merchandise, books, animated series, and mini-games. It's a comprehensive and immersive experience that brings together the best of gaming and blockchain technology.